Today I walked on the treadmill today. I pray I don't get bored to quickly on the treadmill. I really need to get some new videos.
I walked 3 miles. As long as I have my MP3 player, I am good to go! I had issues with my MP3 player today and it slowed me down. I normally do 4 miles in an hour with no issues. (Yeah, I was slacking today!) A big goal for this challenge will be able to post that pic showing 5 miles in an hour or less. I can't wait!!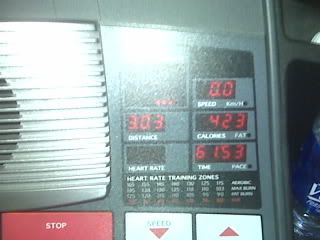 I also too my measurements today. I sooo dont want to post but here we go:
Hips: 38 1/2 (I just lost 3.5 inches so I am not looking to change this.)
Waist: 33 This is my challenge. I want to change this!!
Bust: 37